By Yusef Najafi
Published on , 11:51am | http://www.metroweekly.com/news/?ak=5654
A former Howard University student died from suicide on Tuesday, Oct. 5, in her home state of California.
According to the university's college newspaper, The Hilltop, students organized a candlelight vigil for Aiyisha Hassan, 20, who attended Howard University from 2008 to 2009, on Thursday night.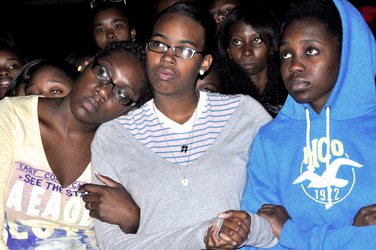 Students at Thursday night's vigil
Ryan C. Hamilton
Amari Ice, 22, president of C.A.S.C.A.D.E., the Coalition of Activist Students Celebrating the Acceptance of Diversity and Equality, Howard University's LGBT student group, said Hassan was a lesbian who attended C.A.S.C.A.D.E. meetings regularly.
''It's devastating to say the least,'' Ice told Metro Weekly on Saturday, Oct. 9. ''It's been a lot to deal with especially with all the other youth suicides that have been happening. It's just fuel to the fire. It brought the national issue very very close to home.''
Details regarding Hassan's suicide have yet to be determined.
Lauren Morris, 21, a senior at Howard, who lived in the same building as Hassan from 2008-2009, said she introduced Hassan to C.A.S.C.A.D.E. Morris added that friends have reported Hassan's suicide was related to her struggles with her sexuality.
''She was having a lot of trouble with a lot of different things,'' Morris says, ''but mainly her sexual identity and just trying to express that.''
Sterling Washington, co-founder of C.A.S.C.A.D.E. and former president, came upon news of Hassan's suicide after attending a C.A.S.C.A.D.E. event at the university this week.
''I absolutely think that this is connected in a way to the failure of 'Don't Ask, Don't Tell' to be repealed,'' Sterling, who is gay and an a 2004 Howard alumni said, speaking to Metro Weekly
on Friday.
''What happens in a large group trickles down to the junior members… so in this case it's members of society so it affects youth in general,'' he said. ''Those straight-identified youth who already had a proclivity, who already had from their parents, their socialization, this idea that gays are less than, it sort of gives them permission and facilities this whole bullying thing so that those that are most vulnerable to it sometimes see suicide as an out.''
According to Howard students, a memorial is currently being planned for Wednesday, Oct. 13. For an extended version of this story, visit MetroWeekly.com on Thursday, Oct. 14.
The National Gay/Lesbian/Bi/Trans Suicide Hotline:
1-866-4-U-TREVOR